5 Reasons to Wear Meditation Spinner Rings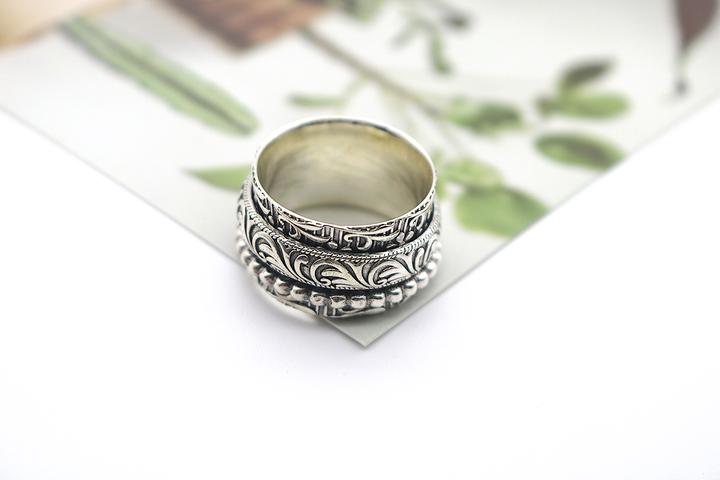 Anxiety rings that offer serenity in times of worry
Jewelry offers each of us a meaningful connection to moments, people, and places. These ornaments lend a certain charm and character to our lifestyles and will always be a timeless addition to our daily wear wardrobe. When it comes to finding the right type of jewelry to bring into our lives, a lot of us can struggle in finding the right fit for ourselves. However, when it comes to rings, we believe you will find nothing more versatile and intimate than a fidget spinner ring. These rings offer a host of benefits for their wearers, and today we would like you to join us as we talk through 5 of the main reasons to wear spinning rings for anxiety. 
 An antidote to chaos
The grind of our day-to-day lives can be challenging to say the least. In times of great stress, it can be hard to get a sense of what is real or not. However, science informs us of a few ways that can help abate anxiety. One of those ways is to bring ourselves back to the present moment. This is where meditation spinner rings have the most to offer us. These rings can provide us with a way out of the inner workings of our minds. Spinning rings for anxiety is a great way to distance yourself from your inward state and bring yourself to your outward one. When you twist and turn the anxiety ring, the repetitive action has a way of allowing you to take note of your current state. Automatically, this creates a feeling of control and serves as a reminder that when life gets overwhelming, we still have control over our present moments. With that understanding and an anxiety spinner ring by your side, we believe that your worrisome moments will become a lot more manageable. 
 Designed to last 
One of the most important things to consider when it comes to jewelry is its durability. When we invest in ornaments for sentimental reasons, the least we deserve is their presence within our lives in the long run. Often, the positive impact of anxiety rings makes them a product that people want to keep for a lifetime. Gold or sterling silver meditation rings are the true champions of this entire collection. These are the best fidget rings to take your experience to the next level because they are made to last. When it comes to affordability, neither will compromise on their quality. Sterling silver remains affordable while durable whereas gold errs on the pricier side and signifies a bond that will last a lifetime. Think about what you want your rolling fidget ring to say about you or your loved ones.
 An intimate story 
GIfting or receiving jewelry has been linked to special moments that the people we love the most would like to commemorate. Meditation spinner rings for men and women are the perfect way to give intangible moments a tangible experience. Life is full of both positivity and negativity and the true challenge relies on finding ways to make space for positive experiences. We think that a man's or woman's fidget spinner ring at the right place and at the right time can leave a constructive mark on moments to be cherished forever. Manifest ways to look after yourself or your loved ones because, at the end of the day, all we really have is each other. 
 Everywhere you go 
When we aren't doing well, it is important to find reliable ways to maintain a sense of calm. For people with anxiety, having to struggle with panic attacks can be incredibly difficult. It is hard to juggle our weaknesses let alone find a fix-all solution to our frustrations. However, the proven impact of fidget spinner rings for women and men says a lot about their positive impact on our mental well-being. This is because the small and compact nature of an anxiety ring allows it to become a reliable addition to your routine. It is there when you need it the most, This means that your spinner ring will be a wearable part of your daily wardrobe and will accompany you wherever life takes you. And when combined with other well-being tools like positive affirmations or breathing techniques, fidget rings for anxiety can be a force to be reckoned with. 
 An ode to the past 
It is a well-established fact that jewelry has evolved over centuries to make its way to us in its current state. Meditation spinner rings are no different and have their roots within ancient Tibetan civilizations. Centuries ago, a sacred tradition led to people transcribing their religious script on prayer wheels. These wheels were then recited and spun together to complete one's religious rites. The simple act of spinning was considered to be therapeutic and calming to the human mind, even at that time. And when this thought was taken forward, it helped conceive the best kinds of fidget rings that we see today. The only thing within our control is the present moments we have. However, being aware of the mechanics of the past can make our present experiences more meaningful. 
In conclusion, we hope we have nudged you in the direction of owning your first spinner ring. When it comes to jewelry, there is no greater investment for your physical and mental well-being. After all, something as small as a meditation spinner ring has only benefits to offer you or your loved ones. Take out time to treat yourself with the care and love that you sincerely deserve. And if you've made it this far to the end of this article, we know that there's a stress relief ring with your name on it! 
---