5 Types Of Spinner Rings To Buy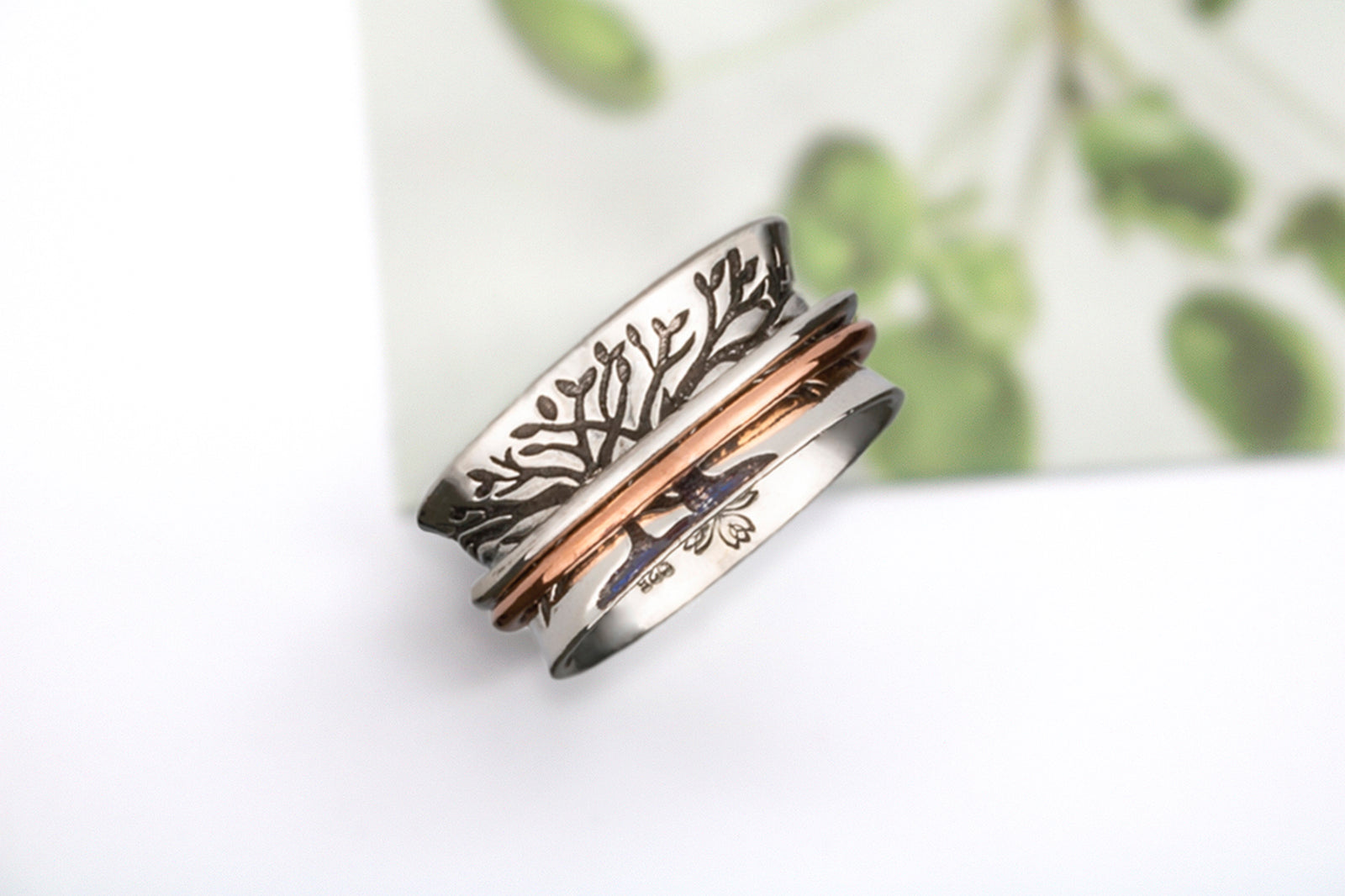 Express your sentiments in 5 unique ways 
Jewelry has, without a doubt, endured the test of time. Its everlasting nature is owed to its relevance within memorable moments, places, and people. Each of us forms a special bond with our jewelry pieces that often link it to a story near and dear to us. Yet, of the many popular finds out there now, nothing hits home quite like spinner rings for women and men do. These ornaments go that extra mile to signify each of our noteworthy life experiences. Join us as we walk you through 5 of the most unique spinner rings and the stories behind their conception. Let our pieces partake meaningfully in your or your loved one's lives. But first...
...why do they spin? 
The concept of rings that spin is fairly new, however, the reasoning behind them will always be relevant. While each of us may wear these rings for different reasons, be it a token of love or a reminder of a moment, there are benefits in each case. If you have ever wondered why these pieces need a place in your lives, look no further.
A sense of calm: 
The wisdom behind these rings dates back centuries. In ancient Tibetan culture, Buddhists would spin cylinders engraved with religious text during their recitations. The act itself was considered soothing, rendering a certain serenity to the art of spinning. Taking this concept into jewelry pieces works similarly. These items serve as a way to bring ourselves back into the present moment. When everyday moments stress us out, the act of spinning can distract us long enough to calm our nerves. For those of us who suffer from anxiety, wearing this ornament daily can be just what the doctor ordered. 
A thoughtful reminder: 
Something as simple as a band around our finger can be the easiest thing to add to our daily wear. The positive impact of these rings is well understood, but the practicality of these pieces is what makes them so special. When it comes to these items, simplicity and wearability are what allow for longer-lasting results. And when it comes to making moments special with our loved ones, a gift like this can speak louder than words. Jewelry commemorates a moment in time for the wearer to carry with them daily.  
So, what is your type? 
Just as we differ in our personalities, similarly, each ring is not quite like the other. Each piece represents a unique concept that can best relate to the wearer. It is important to know the merits and motivations behind each collection so that your next purchase can meet and exceed your expectations. 
If you are new to the game, it's always better to start with the basics. This collection keeps it short and sweet by staying true to its purpose. Each piece is a reflection of timeless beauty that promises to stay relevant for years to come. For moments you would like to etch into eternity, nothing will compare to the classics. These ornaments plan to stick around through and beyond your life while finding the perfect way to mold themselves into the lives of others. These serve as exemplary heirlooms that can beautifully find a home in the hands of its wearer.
Anything we choose to wear can become our form of expression and the case is no different when it comes to jewelry. The designer collection goes the extra mile to ensure maximum inclusivity. Each piece is crafted precisely and artistically while drawing inspiration from relatable imagery. This process breathers character into each design so that the wearer can truly feel at home. Whether it is the simplicity they crave or a knack for excitement, your loved one will feel understood within the many creative options available in this collection. These pieces are here to enhance the spark that already exists. 
Nothing shouts commitment quite like a ring can, however, this collection still manages to break away from preconceived beliefs. Of course, these jewelry items are still meant to signify a declaration of love and longevity. With the help of meaningful symbology and creative design, these pieces are here to convey your true intentions to your partner so that you can step into the next avenues of your lives as a team. On a different note, this collection also denotes a commitment or resolve to a valued cause.  
Our lives are a compilation of different moments that come together to make us who we are. The life journey collection would like to be part of your life's most intimate moments. These jewelry items are meant to commemorate your new beginnings so that you can step into the next chapter with ease. These pieces are here to provide comfort by reminding you of how far you have come and how far you are meant to go. Looking back, these rings will speak of the histories and events that they witnessed. 
This list would remain incomplete without a nod to our brothers and sisters in the Indian subcontinent. This collection of jewelry is an ode to our ancestors in the east, who left us with valuable tokens of wisdom. As we embark into the unpredictable sea of life, Japanese wave art designs have much to teach us. Similarly, acknowledging the light and might of the sun can familiarize many of the ancient middle-eastern concepts. Each ring represents a snapshot of the culture of its origin so that the wearer may feel enlightened. 
Our parting advice: 
At the end of the day, our life experiences are what we often look back to. When it comes to the remembrance of life, jewelry offers a direct window into our special moments. Throughout the unpredictability of this life, a daily reminder of our cherished moments can offer the greatest comfort. And beyond our lifetime, whatever we leave behind in this world, rest assured that these pieces will do the work to carry our stories forward. 


---