Benefits of Wearing Meditation Spinner Rings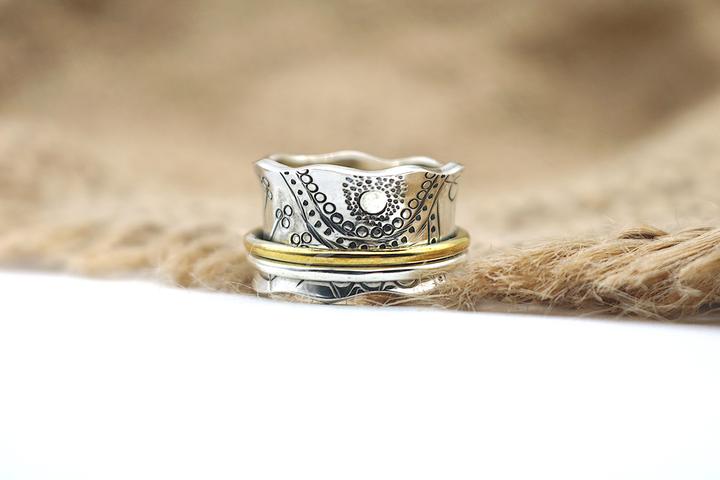 Here's why

 
fidget spinner rings
 

were made to  set you free! 
The world of jewelry has existed for centuries now, and we are all more fortunate because of it. The evolution and growth within a single piece can effortlessly speak for the forethought behind its inception. The same is true for meditation spinner rings.  The best spinner rings can provide the person wearing them with a way to take the edge off of stress-inducing moments within one's life. The tried and tested methodologies that have given anxiety spinner rings their well-deserved hype are what we'd like to discuss today. If you are wondering what all the fuss is about, look no further as we dive into what makes worry silver rings so unique in the first place!  
A sense of calm
One thing that will always stay constant is change, and the uncertainty of that alone can be daunting for most people. When we don't know what to expect, we feel powerless in the face of the unknown. Anxiety and stress are very exceptional consequences of today's technological era. And we are facing the constant backlash of it. Luckily, not all hope is lost. In rings that spin, you will find a semblance of peace that can bring you back into the present moment. For most people, the simple action of fidgeting and spinning their stress relief rings can be enough to feel calmer than before. It is crucial to acknowledge our anxieties before we can soothe them.  Modern or handmade spinner rings cannot cure our stresses, but they sure can take the edge off.
At your fingertips
With the constant unpredictability of life, it is hard to tell when we will be on the receiving end of a panic attack. If you are struggling to cope with your mental health, it is imperative to take action. An effective way to do this is to rely on dependable methods, people, and places. A small token like a unique spinner ring can be just what you need to add to your daily wear collection. Meditation spinner rings are expertly sized, so they can be carried or worn wherever your busy routines may take you. To amp up reliability, durable options like gold or sterling silver spinner rings can be added to your wardrobe so that they can last you a long while. As soon as you feel like you are spiraling, remember to breathe while spinning your stress relief rings. This act alone will keep you grounded enough to face whatever challenge life throws at you. 
A token of comfort
Some of us know or have had first-hand experiences with mental health disorders. An experience like that familiarizes us with just how challenging our daily lives can be. This is especially true for people who know a loved one who is struggling to cope with life's challenges. It can be hard in times of worry to offer comfort to our loved ones. Often, it is challenging to get them to open up to us. An impactful way to provide our loved ones with empathy can be to gift them a spinner ring for their anxiety. A meditation spinner ring can be just what they need to remind them of our support in times of worry. For extra special occasions, opting for a sterling silver meditation ring over a simple one can even serve as a bold sign of commitment. A spinner ring is for men just as it is for women and is a sign of how much their loved one truly knows and cares for them. If that is not a token of love, we aren't sure what is. 
A connection to history
As with any piece of jewelry, meditation spinner rings also have a rich history that is often overlooked. The fidget spinner ring of today takes its humble beginning from the traditions of ancient Tibetan tribes. Centuries ago, it was customary for tribespeople to transcribe their religious texts on prayer wheels. These wheels were either manually or environmentally rotated in order to complete religious rites. The simplicity and transcendency of this action are what have inspired the stress rings for women and men that we see today. The spinning of the wheel was an act that provided the one performing it with comfort, serenity, and peace. The thoughtfulness of Tibetan cultures that have given us rings that spin cannot be forgotten. The person who decides to incorporate an anxiety spinner ring into their life must know exactly where it has come from to be able to truly appreciate what it can do.  
A transformative adjustment
The only way past the challenges of this life is through them. All we can do to thrive is by incorporating healthy lifestyle habits that can foster positive growth. When we decide to include a meditation spinner rings into our lives, we must do so with honesty. Change begins from within and for a piece of jewelry to do its job, we have to do ours first. Many people find ways to integrate other soothing activities while they use silver spinner rings for their anxiety. For some, repeatedly saying positive affirmations while rotating their bands does the trick. For others, counting backward from 100 hits the spot. We believe that the simplicity of these rings, when combined with the right practices can be a transformative experience for the person seeking to improve their way of life. Wouldn't you agree? 
If you've reached the end of this article and are seriously considering purchasing a meditation spinner ring for yourself or your friends, then we are glad we could be of some help. In today's fast-paced world, it is imperative to slow down to avoid burnout. Here, spinner rings provide both men and women with the easiest way to make this happen. If you or your loved one could benefit from an anxiety spinner ring, then we wish them luck with their mental health journey. Just because we have to go through some things alone doesn't mean we have to be alone. Life is far too short to be spent worrying over things outside of our control.
---
---