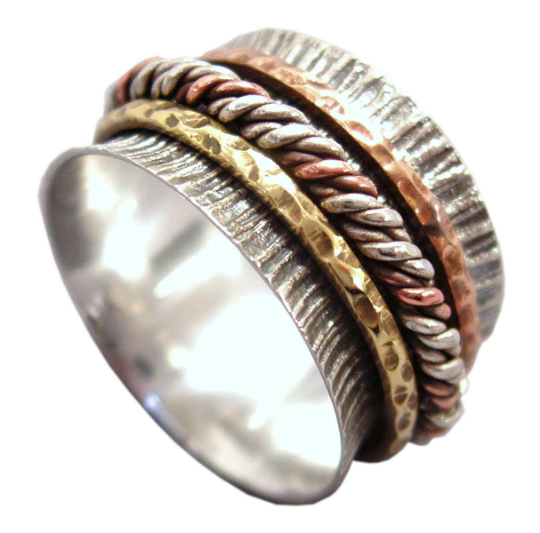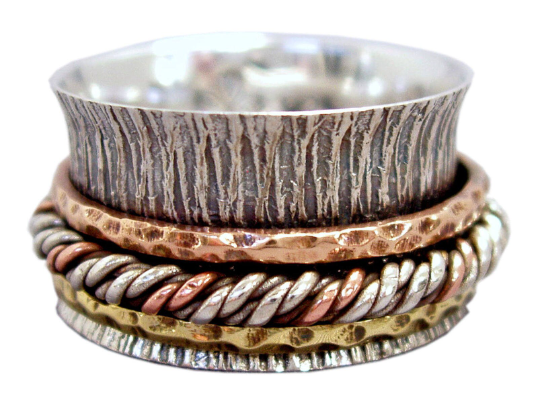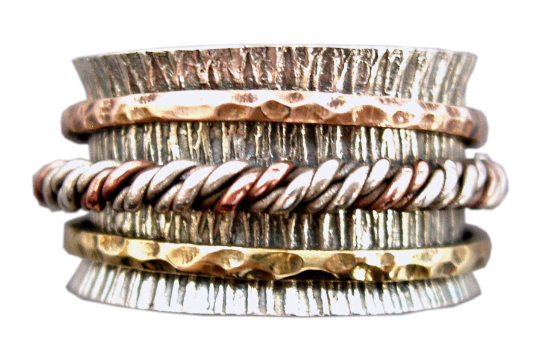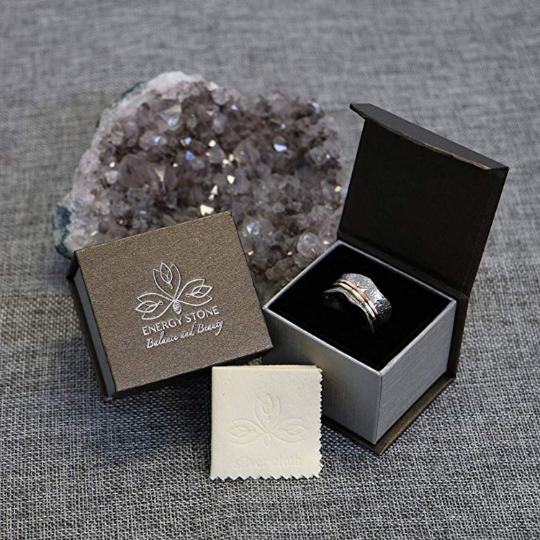 Energy Stone "TRAVELER" Tri-Color Meditation Spinning Ring Sterling Silver Base Ring with Brass and Copper Cable Spinners
The "TRAVELLER" spinning ring is a vibrant addition to Energy Stone's meditation spinning ring collection. With a reticulated silver base ring and three colorful spinners, including a twisted cable spinner, this ring captures the essence of a traveler's adventurous journey. Measuring 12.5mm in height, it boasts a high-quality finish and a weight of 10 grams for a size 8 ring, making it an exquisite choice for those who appreciate finer craftsmanship.

In stock, ready to ship

Inventory on the way
We guarantee to exchange merchandise or issue a refund if you are not completely satisfied within 21 days after the order is delivered.
You will be refunded for the merchandise total plus applicable sales tax paid. Shipping and handling charges are non-refundable unless the product arrived damaged, or an incorrect product was shipped. Please allow 7 business days for us to process the refund upon receipt of the return. The refund will come through the sales platform where you purchased the item from.
If you return any part of your order and that order was part of a promotion, your refund will be the actual price you paid for the item.
All items are carefully packaged and shipped in a beautiful jewelry box. We ship the following Tuesday after the order is placed. Once your order is shipped, you will not be able to cancel the order. If you change your mind after shipment, you can return the item for a refund once you receive it. Please refer to our Refund Policy for details.

We offer Free Shipping to US and Canada.
Because of the ring-over-ring design of our spinner rings, they are hard to be sized. As a result, Energy Stone makes each ring true to size with extra room to accommodate natural finger swelling throughout the day. For example, our size 7 rings are really 7 ¼, and our size 7 ½ rings are really 7 ¾, and soon. It all comes down to personal preference about how you like your ring to fit, but in our experience, many of our customers have told us that buying half a size up is a good idea for a wide-band style.
Get more detailed information, please click here.

Get a free Ring Sizer once you register here.